24/7 Mold Removal Services in Ontario & British Columbia
We are experienced and certified mold removal and restoration professionals
Restoration is what we do
Ontario & Outer GTA Restoration Services
We are here for you and your family, to help you recover from water, sewage, or fire damage. Whether it's an emergency or a cleanup, we are specialists in our field and can make sure you get back to normal as soon as possible. We offer quick, effective, and superior restoration and cleaning work.
We are your local professional mold removers. We are fully trained, certified, and equipped to handle such issues with high levels of precision and safety. When you choose Wright Restorations, you're sure of complete mold removal and that there'll be no re-growth.
At Wright Restorations, we are committed to providing you with the most efficient and effective mold removal services. We have the certification, training, and tools necessary to do the job right. We are simply the best mold remediation Ontario & British Columbia company you can find.
When you choose us, you're not only sure that you'll be working with professionals but also assured of complete restoration of your home or business from mold infestation. We do a thorough and careful job while keeping in mind your safety and the cost of your investment. At the end of it all, you'll be glad you chose us.
Quality Service is Our Guarantee
HAVE AN EMERGENCY? GIVE US A CALL WE'LL BE THERE IN WITHIN 45 MINUTES!
Call Us Today! 1-888-268-5409
Ontario Black Mold & Toxic Mold
When you hear the term 'Black Mold', it typically refers to a group of molds that can produce toxins (mycotoxins).

However, not all Black Mold is toxic, and toxic mold does not necessarily have to be black. Dangerous mold can present itself in nearly any color / shape / location.

This basically means, no matter what kind of mold you think you have the best policy is to just get rid of it ASAP!
All mold is potentially hazardous to your health, and prolonged exposure to toxic mold can be very dangerous!
Some of the symptoms include:
Unusual respiratory response

Chronic coughing

Chronic sneezing

Irritation of eyes, nose or throat

Skin irritation or unexplained rashes

Chronic fatigue

Persistent headaches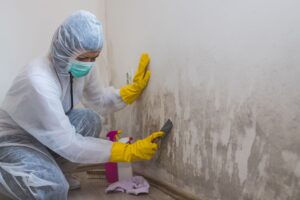 Restoration is what we do
Our services include emergency water damage restoration, commercial and residential mold removal, fire and smoke damage restoration, air quality testing and monitoring, odour removal, commercial and residential asbestos removal and more.

No matter what the cause of damage to your property, we can fix it.
We love our clients and they love our work. Our team is very experienced in both residential and commercial projects.